Lactational Amenorrhea (LAM)
LAM is for women that are fully breastfeeding: feeding baby on demand without food supplements. It can only be relied upon in the first six months after delivery and only if there is no return of menstruation in that time.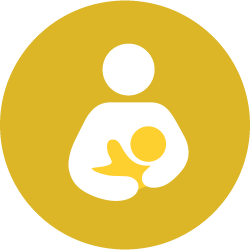 Key Facts about Lactational Amenorrhea (LAM)
Lactational amenorrhoea (LAM) is the term used to describe the pause in menstruating while fully breastfeeding, and is essentially nature's way of preventing pregnancy soon after birth to give your body a chance to heal.
It is highly recommended that you speak with your midwife, a nurse or doctor about LAM.
If used perfectly the failure rate is less than 2%, making it a very effective post-birth contraceptive method.
It does not protect you from STIs.
How it works
When you exclusively breastfeed — meaning you nurse at least every 4 hours during the day and every 6 hours at night, and feed your baby only breast milk — your body naturally stops ovulating. You can't get pregnant if you don't ovulate.
No ovulation means you won't have your period, either. That's why breastfeeding-as-birth control is also called the lactational amenorrhea method (LAM). "Lactational" refers to breastfeeding, and "amenorrhea" means not having your period.
Pros & cons
LAM is natural family planning method.
This is a good method for those who are fully breastfeeding.
It does not protect you from STIs.
Page last updated: 23 January 2020. Reviewed for clinical accuracy.