There are two types of condoms – male and female (internal) condoms. Condoms protect against unwanted pregnancy and STIs. Condoms are also known as barrier methods.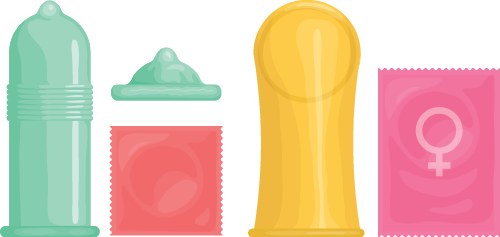 Key Facts about Condoms
There are two types of condoms – the male condom and the female (internal) condom. 
Male Condom
Male condoms are made of very thin latex (rubber) and are designed to cover the penis in order to stop fluids being transferred between partners.
Female Condom
Female (internal) condoms are like other condoms except they fit inside the vagina instead of covering the penis. They are made of polyurethane and line the vagina.
Pros & cons
You only need to use them when you have sex.
Male and female condoms protect against both pregnancy and STIs.
You can put a female condom in up to eight hours before before you have sex.
Condoms are up to 95% to 98% effective when used correctly.
Sometimes they can split.
Some people are allergic to the latex used in male condoms.
Female condoms can slip or get pushed up into the vagina if not used properly.
Where to get them
Condoms are available from healthcare professionals as well as to buy from retail/online shops. You can get a prescription for condoms from your nurse or doctor. Prices vary depending on where you go and the appointment fee in place.  Click here to find your nearest service.
Page last updated: 23 January 2020. Reviewed for clinical accuracy.